Pro Golfer Kristy McPherson
Diagnosed with systemic-onset juvenile RA when she was only 11 years old, Kristy McPherson went on to become a professional golfer and star of the reality series
The Big Break
on The Golf Channel. Biking, walking, and weightlifting are all par for the course for Ms. McPherson. Despite the pain and inflammation of RA, McPherson told Arthritis Today that she works out three or four times a week. All that, and she still manages to find time to lend her support to ongoing arthritis research.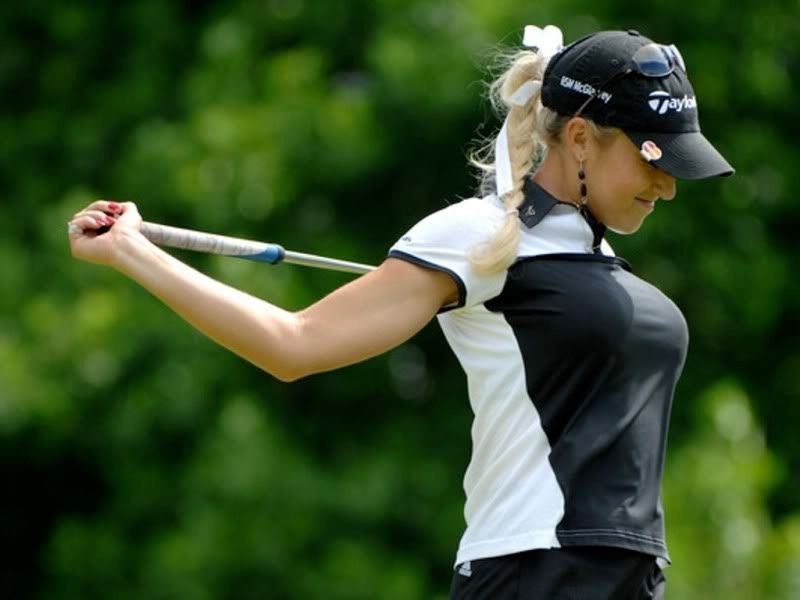 Actress Kathleen Turner
She sizzled in
Body Heat
, captivated audiences in
Romancing the Stone
, and delighted fans with her portrayal of a Vegas drag queen on
Friends
. It may have looked like a lot of fun and games, but behind the scenes, Ms. Turner was dealing with the debilitating pain of RA. She was diagnosed at 38 years old. After years of trial and error, the actress found treatment that granted some relief and helped get her back on track. The Arthritis Foundation quotes Turner as saying, "It is important to me that people know they have options so they can get some relief from this debilitating disease."
Actor and Weightlifting Champ Dave Prowse
James Earl Jones was the voice behind Darth Vader, but Dave Prowse was the actor who wore the famous black mask and cape. He's also a former bodybuilder and British Heavyweight Weightlifting Champion. Diagnosed with juvenile RA at age 13, Mr. Prowse was drawn to athletics, so he turned to bodybuilding and weightlifting. Prowse has endured many challenges due to his RA, including several surgeries, but it hasn't stopped him from following his dreams. "Impressive. Most impressive."
Actress and Comedian Lucille Ball
Who would have guessed that the wild-eyed redhead with enough energy to light the world was living with RA? The diagnosis came when she was 17 years old, following a bout of extreme pain and trouble walking. Like many people of her generation, she kept her personal struggles largely to herself and rarely discussed her health problems in public. However, the beloved icon was a strong supporter of the Arthritis Foundation until her death in 1989.
Actress Camryn Manheim
Persistent, sharp pain in her hands led actress Camryn Manheim to consult with her doctor, but the answers didn't come quickly. It took eight months to learn that she had RA. She was 44 years old at the time of diagnosis. The star of such television shows as
Ghost Whisperer
and
The Practice
, Ms. Manheim researched and educated herself about the disease. Combining a healthier diet, exercise, and medication, her treatment plan enables her to manage symptoms and continue living life to the fullest.
Actor James Coburn
The late actor James Coburn is best remembered for his macho man persona in roles like
The Great Escape
and
The Magnificent Seven
. He was diagnosed with RA at age 51. Initially unable to keep up with his busy schedule, Mr. Coburn turned to holistic medicine to relieve his RA-related pain. He later made several more movies and went on to win an Academy Award for Best Supporting Actor in the dramatic film,
Affliction
.
Actress Aida Turturro
Following a spell of excruciating pain and inability to walk, Aida Turturro was diagnosed with RA when she was only 12 years old. Despite the physical challenges, she carved out an impressive career as an actress. She rocked the role of Tony Soprano's sister Janice in
The Sopranos
, winning critical acclaim and a few Emmy nominations along the way. The very determined Ms. Turturro has worked to spread the word about RA. In 2000, she helped launch the Joint Effort Against Rheumatoid Arthritis campaign.
Living with Rheumatoid Arthritis
As you can see from some of these celebrity stories, RA can begin in childhood. If your child has swollen or painful joints, consult with your doctor. Early diagnosis and treatment can help prevent more severe damage to joints.
Although there is no cure for RA, there are a variety of treatment options and lifestyle choices that can help reduce inflammation and pain. Be a partner in your own health care by learning all you can about RA and RA treatment.