Famous people with depression
by Amanda MacMillan
Depression is a serious illness that can happen to anyone, even people who seem to have it all.
Here are 20 famous people, whether actors, singers, or athletes, who have struggled with depression, including postpartum depression and bipolar disorder.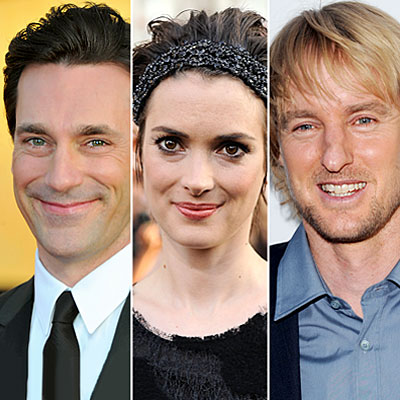 Jon Hamm
When Mad Men actor Hamm was just 20, he experienced chronic depression following his father's death. The structured environment of work and school (he was a college student at the time) helped him recover, but he also relied on therapy and antidepressants to pull him out of a downward spiral.
Ashley Judd
Today she has a loving husband, a successful acting career, and a passion for humanitarian work, but life was not always so picture-perfect for Judd.
Owen Wilson
His public persona is that of a laid-back, fun-loving dude, but the world saw a darker side of the actor in 2007 when reports surfaced that he had attempted suicide at his California home. Some friends were shocked, but others said that Wilson, who was 38 at the time, had "battled his share of demons, which have included drug addiction," reported People.
Paulina Porizkova
When model and actress Porizkova was voted off ABC's Dancing with the Stars in 2007, her feelings of rejection led to anxiety attacks. An antidepressant helped dull her anxiety, Porizkova wrote in a 2011 Huffington Post editorial, but also her personality.
Heath Ledger
The whole truth behind Ledger's tragic death in January 2008 will likely never be known: The troubled actor, 28, accidentally overdosed on sleeping pills, painkillers, and anxiety drugs not long after revealing to the New York Times that he'd been suffering from insomnia.
Demi Lovato
Disney actress and singer Lovato made headlines in 2010 by checking into a treatment facility for "emotional and physical issues" after being involved in an altercation with a dancer on the Jonas Brothers World Tour.
David Arquette
After Arquette and wife Courteney Cox announced they were separating in late 2010, the actor was spotted dancing and behaving erratically at nightclubs. He told Howard Stern during a radio interview that he'd been drinking a lot and acting like a "maniac."
Catherine Zeta-Jones
In 2011 actress Zeta-Jones, 41, revealed that she has bipolar II disorder, which causes severe depression. (People with bipolar II often don't have the extreme "up" of mania, which is a staple of bipolar I.)